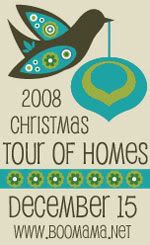 Goodnight, I'm late, late. But then you can't really post photos of a tree that isn't up, or a mantle that isn't decorated, so maybe I'm right on time. Thank you, Sophie, for letting me play even though I was late for the party. Any good southern girl knows you don't show up early, when the hostess is still fussing with her hair and lighting candles, but you don't show up so late that you've missed half the conversations either.

So - hey everybody, and specifically my family who isn't here this year, some of you who were going to be here on Christmas morning, sporting bedhair and new Christmas pjs and eating turkey, and laughing and playing.... here's what you're missing:
I didn't show the front of the house because you've seen it before, but it has two reindeer and a big, red wreath and garland over the front door - very cheery. There's also an old fashioned sled propped up next to the door in case you'd like to fly down our hill. I retrieved it from the moving neighbor's trash a few years ago, and after I added a bow and some greenery I love it!
This is my new addition. A good friend had this Snow Village up in her living room every year, and when I asked her about it, and researched online what they cost new, I started shopping on Ebay. I've got a Christmas shop and a little Tudor house still coming. The bandshell plays "We Wish You A Merry Christmas" til you want to smack someone, but it's magical looking at night, when you flip the lights on. I thought my grandkids would love it, but daughter, Leslie was horrified to see that it was glass, very breakable and very tempting to clumsy little hands. I told her we'd be careful, and it's only a 'thing'. Replaceable on Ebay if needbe. I plan to leave it up through at least the end of February since it's colder than all get out up here til at least then.
Our lovely fake tree, prelit so my DH likes it much better than the old one. I left the bottom branches undecorated til my helper gets here. He's coming in about an hour, and we're going to have such fun finishing it.
These are for his chubby, little hands to hang. A few are breakable, but again, they're just things. If he breaks them, we'll sweep them up and move on. I figure the dogs tend to destroy the bottom of the tree anyway, so no need to be picky with it.
Our faux fireplace in the living room. It's one of my favorite things in the house. I've given Santa a list for what I'd love to see in my stocking, which includes new slippers and the DVD of Mama Mia so I can watch it another 99 times while I dance all over the family room. I will pre-warn anyone who agrees to watch it with me.
The only snowmen I kept from my big collection a few years ago. I like that the rest of them are in different homes, most of my girlfriends took some. I kept just a few of my favorites.
You can't have Christmas without mistletoe somewhere. We used to drive to Louisiana and my father would grab some of it out of the trees there. I've had this fake one for at least 20 years. Lots of kissing goes on under this!
The family room mantle decorated so that it can stay this way year round. Brilliant friend Cathy gave me that tip. This goes with most seasons. This fireplace is real, as you can see from the soot stains. It's big enough to roast a pig, but we've held off so far.
Maybe my very favorite Christmas decoration. The 'But God' stays up year around, because really, that says it all, doesn't it? Merry Christmas everybody, even those who weren't scheduled to come to our home and come down the stairs with bedhair in new Christmas pjs. If you haven't already done the tour, you can click on the button at the top to see all the lovely homes out there who have opened their doors to us.